Archive
Discography
22 Pistepirkko EP
Out of print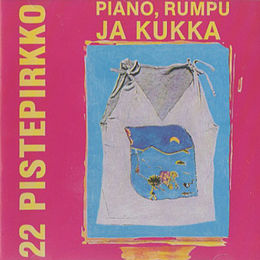 Piano, Rumpu ja Kukka
Out of print
The Kings of Hong Kong
Out of print
Bare Bone Nest
Out of print
Demo Harvest 86-94 Vol 1
Out of print
Rumble City, LaLa Land
Out of print
Zipcode (15th Anniversary Remix&Remake Compilation Album)
Out of print
Live With The Covers
Out of print
Lime Green Delorean
Out of print
The Book
The book of facts and memoirs spanning the career of 22-Pistepirkko.
Author Viljami Puustinen covers the bands rise from self-made garage rock outsiders to winning the Finnish Rock Championship year -82 and all the way to becoming internationally acclaimed.
Years 2009 to present in the making.
Documentary
"Sleep Good – Rock Well" directed by Andreas Haaning Christiansen. Set during the 2001 Rally Of Love Europe tour: 50 concerts in 50 days.
Pictures